Video KYC
Our AI-based video-KYC platform instantly onboard customers, analyze documents and cross-check the identity of the users with artificial intelligence, advanced analytics, paperless processes and robust compliance systems to provide accurate results.
Trusted by India's leading
financial institutions

















Key Features of
Anurcloud Video KYC
Getting new customers and keeping your existing customer base happy & making sure they trust you can be challenging. To onboard a customer, you need to verify the proper ID documents and cross-check each customer's details against various databases. Introducing AI-driven Anur e-KYC solution that helps enterprises speed up onboarding in real-time and automate document collection & verification with a 99.98% accuracy rate by offloading human resources.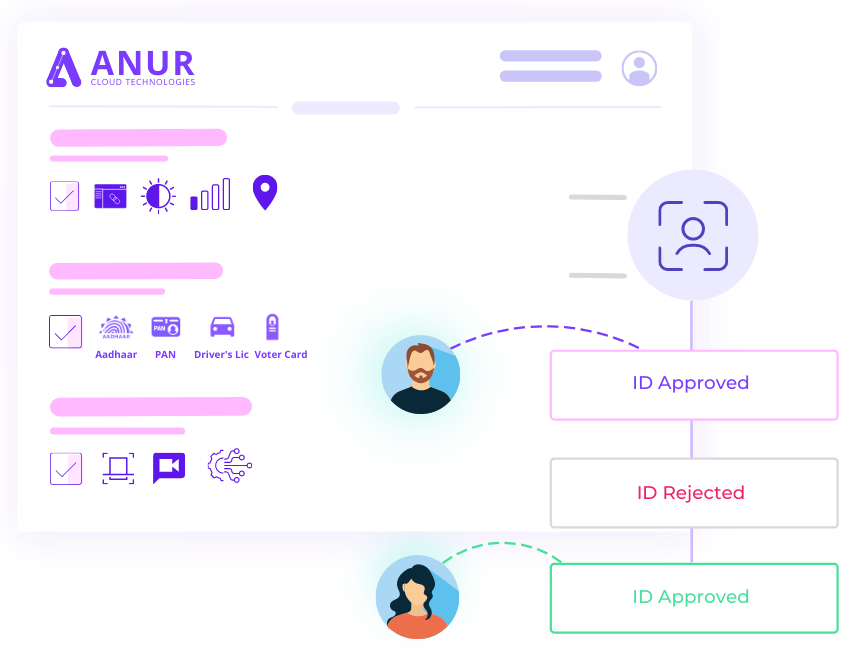 Real time
Verify customers' identities in real time by scanning their valid official documents using Optical Character Recognition (OCR) technology.
Increased reach
Now connect all customers with low bandwidth and multi-lingual supports, regardless of their connection speed and languages.
Simple to adopt
Get facial recognition, liveness check and video recording of customers.
Reduces risk
Built with advanced Multi factor authentication following the proposed privacy law and regulatory guidance
Easy reports and analytics
Simply access reports in the required format to get audit-ready analytics and dynamic reports.
Our solution has been seamlessly integrated at all touchpoints of business including the Agent onboarding mobile app.  The completion rate of the links are above 90 % and the process has an uptime of > 99 % delivering business values:

Reduce backend operations effort & cost


Scale up operations exponentially

Reduction in customer Drop-offs (upto 50%)
Platform Agnostic, support multiple platforms